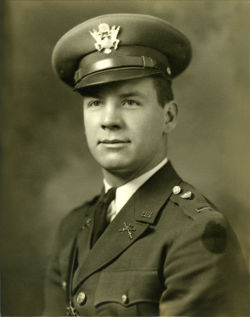 Dale Martin Garvey
Waverly, KS
1938, 4726, Presho, then American Island, SCS-7 2nd Lt. 17th Inf-Res.
1939, BF-2 Sand Lake (Columbia) 2nd Lt. 17th Inf-Res.
1939, 4726, Chamberlain (AI), SCS-7
1940, 4726, Chamberlain (AI), SCS-7
NEW LONDON
Saturday, March 16, 2002
Dale M. Garvey, 87, of Newport Road, died yesterday at his home after a period of failing health. He was born in LeRoy, Kan., the son of John and Etta (Martin) Garvey. He moved to New London in 1984. Garvey earned a bachelor's degree from Kansas State University in 1936 and a master's degree from Emporia State University in 1960. He graduated fro the U.S. Army Command & General Staff College in 1950 and the National War College in 1957. He served in the U.S. Army from 1936 to 1959, retiring with the rank of colonel. He received the Bronze Star and Army Commendation Medal. He worked as professor of political science at Emporia State University in Kansas for 16 years. He was a member of Sigma Phi Epsilon and the First Baptist Church of New London. He was a founding member, trustee and secretary of the Ausbon Sargent Land Preservation Trust. He was past president of the Hilltop Association in New London. Survivors include his wife of 64 years, Sancha (Kilbourn) Garvey of New London; three sons, John Garvey of New London, Dale Garvey Jr. of Prince George County, Va., and Patrick Garvey of Poquoson, Va.; a brother, John Garvey of Shawnee Mission, Kan.; 11 grandchildren; two great-grandchildren; and two nieces. Calling hours will not be held. Memorial services will be held Monday at 10 a.m. at the First Baptist Church of New London. The Rev. Richard Dutton, pastor, will officiate. In lieu of flowers, memorial contributions may be made to Ausbon Sargent Land Preservation Trust, P.O. Box 2040 New London 03257.
Do you have additional information about Dale Garvey
We would like to included it. Fill in the form below to send your information. Please include a valid email address or email from your own email client to: history "at" SouthDakotaCCC "dot" org.
Contact us about Dale Garvey