The CCC Museum Store
Your purchase helps support the Civilian Conservation Corps Museum of South Dakota
Category: Souvenir &nbspListing Date: 2017-04-29 &nbspProduct ID: 973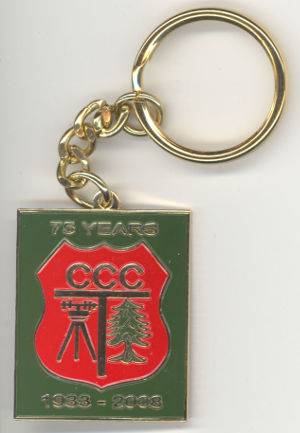 Anniversary Key Ring
75 years Commemorative Key Ring 1933 - 2008

Pay with credit card or PayPal.
View Cart Example | Check Out Example
We have located only a few of these 75th Anniversary Key Rings, 1933 - 2008. Add one to you Civilian Conservation Corps collection.
Do you have questions about Anniversary Key Ring
We would like to know. Fill in the form below to send your information. Please include a valid email address or email from your own email client to: history "at" SouthDakotaCCC "dot" org.
Contact us about Anniversary Key Ring
Posted with keywords: 75 years,anniversary,key chain,key ring,Civilian Conservation Corp,CCC,museum,SouthDakota
Your purchases and donations help support the Civilian Cconservation Corps Museum of South Dakota. Shop online now or make your purchase at the museum.